How do we make an office container?
We take pride in selling and renting commercial storage containers. About fifteen years ago we realized these could also be used as office trailers. Now, we transform storage containers into office containers!
A quality container office
A container office has a very different purpose than a storage container. When people (instead of goods) will be inside, the container needs to be safe, comfortable, useful, and pleasant. That's why we put so much effort, time, and craftsmanship into making our container offices.
First, we cut openings in the industrial steel for as many windows and doors as possible. It's important to have natural light within the container office and a view of the outside. We know many of these container offices end up on job sites where it's possible for the general public to access it, so we protect the doors and windows with heavy-duty locks and steel burglar bars.
Next, we frame out the interiors to prepare to make the walls and ceiling. We fill in between every stud with spray foam insulation to keep the container extremely well insulated. Then the sheetrock walls go up and the industrial vinyl flooring gets laid. The flooring is durable and made to stand up to lots of use.
Finally, the thing we can't live without in Florida is added – AC! Then the electrical, phone lines, lights, etc are put in. And lastly, the built-in desks and drafting tables are added.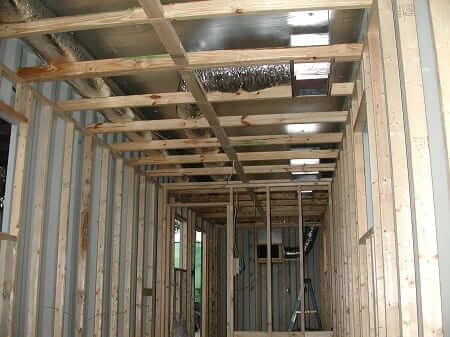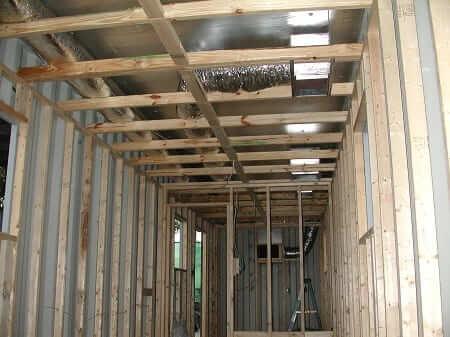 Our container office has AC, phone, and built-in desks
We make several different configurations for our offices. Some offices have storage in the back. Some offices are two offices in one container. Others are set up as breakrooms. All of our container office products can be seen here.
Container offices are replacing office trailers
There's no doubt that container offices are replacing office trailers. They're cheaper, easier to set up, ground accessible, and sustainable. So make your next job site trailer and office container!