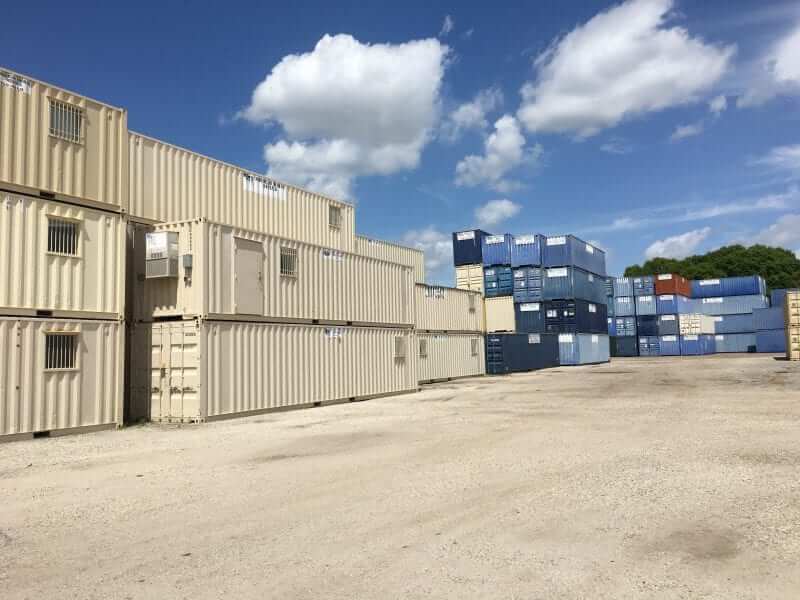 Sell and rent commercial shipping containers.
These shipping containers are also referred to as storage containers, storage units, and pods. They are made out of industrial steel and proven to be watertight and weather tight. The steel boxes can stand up to hurricane and tornado force winds, keeping the goods inside safe and dry. We equip the storage containers with industrial steel lockboxes, enforcer locks, or master locks – whatever you feel safest with. Check out all of the storage containers here.
Sell and rent on-site office containers.
These on-site office containers are also called office trailers, portable offices, mobile offices, and construction offices. They are the same shipping container boxes, just remodeled into offices. Our field team cuts and welds windows and man doors into the steel, adds electrical hookups, AC, insulation, drywall, commercial flooring, built-in desks, drafting tables, lights, and more. A portion of the box can be reserved for storage or the entire container can be dedicated to office space. You can see all our different storage and office containers here.
Sell and rent semi-trailers.
These semi-trailers are also known as storage trailers. Our semi-trailer fleet consists of 48′ and 53′ foot semi-trailers. Swing or roll door options are also an option.
We serve our customers.
We do what it takes to keep our customers happy! That's why most of our business consists of repeat clients. We work with you to schedule, deliver, and pick up your containers when you need it done. Additionally, all of our trucks are drivers are in-house. Our small business understands the importance of customer service and we take pride in delivering that to each and every customer.
Contact us at 863-665-4459 to learn more.