A single shipping container has traveled throughout the world and has been exposed to the marine environment. Specifically, exposure to saltwater can really wear away at the container's paint. For this reason, you may be interested in painting your shipping container. If this is going to be an addition to your property, you certainly want it to be aesthetically appealing, which is one reason to paint it. However, giving the box a new paint job also adds an extra layer of protection between the steel and the harsh elements. The paint provides durability, ensuring the strength and integrity of the metal by keeping it free from rust. The cost of painting a shipping container will vary depending on the size of the shipping container and the condition of the shipping container, like how much rust is on it.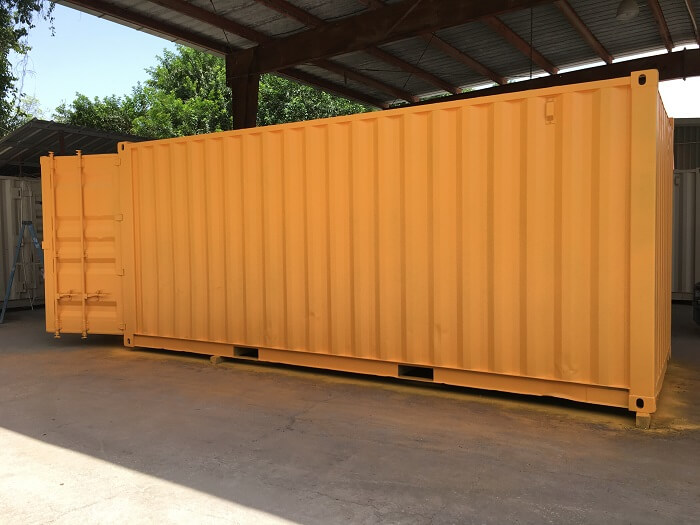 Prepping your Shipping Container for Painting
The first step to prepping your shipping container for paint is to remove any of the shipping line markings or other decals. Using a razor blade should do the trick, but if they're extra stubborn a heat gun can help too. Then you will want to wash the container thoroughly using a good chemical cleaner. It is probably best and easier to use a pressure washer if you have one handy, if not, the good ole' soap and bucket will work. After drying the unit, it's time to tackle the rust. We recommend using a wire brush to remove the rust. You can apply other rust remover chemicals if you need them. Now you're ready to paint!
To Spray or Not to Spray the Shipping Container
The shipping container will need to be primed at all of the previous rust locations before the paint is applied. Industrial paint sprayers can make the process of painting go much more quickly. If that isn't an option, a paintbrush and a can of paint will work too. We recommend using a water-based direct to metal (DTM) paint. Sherwin Williams makes a good outdoor, marine-grade DTM paint.
Need ATR to Paint Your Shipping Container?
ATR can help! Reserve Your Storage Container Today and ask us to paint it for you!