Renting a storage container for long periods of time is ideal for construction, warehouse, and retail customers. But how do you know what storage container size is right for your project or equipment?
You may think all you have to do is measure your things but there are other things to consider before choosing your storage container. You may even need to rent more than one for your project!
Finding the right sized storage container generally depends first on what it's being used for, if you're stacking items, the total weight of your items, and space constraints on the site.
What Are You Using the Storage Container For?
As mentioned before, storage containers are GREAT for construction sites, additional warehouse storage and additional storage for retail customers. Do you need more square foot storage, or do you need more height?
How are you storing your items?
It's important to know how you intend to place your equipment or goods inside your storage container.
If you're using the storage container to store your tools and equipment, square foot dimensions may be more important than height.
A 20' storage container will give you about 150 ft² and a 40' storage container will give you about 300 ft². We do offer 10' storage containers as well, and those provide about 73 ft².
Our standard containers have an interior height of 7'9.75" with a door opening of 7'5.75". High-cube containers give you exactly one foot of extra height.
Weight Allowance
A standard storage container measures 8 by 8 by 20ft and can hold a rough average of up to 61, 150 lbs. fully loaded (that's about 48,000 bananas, if you were wondering). The max load of a 40' storage container can hold a rough average of up to 71,650 lbs.
How are you loading your items?
If you intend to stack your items or drive a forklift inside? You would prefer a high-cube 40' storage container so the forks can go up higher. Luckily most of our 40' containers are high cube but if it's imperative that you receive a 40' storage container, please be sure to inform us!
How much room do you have?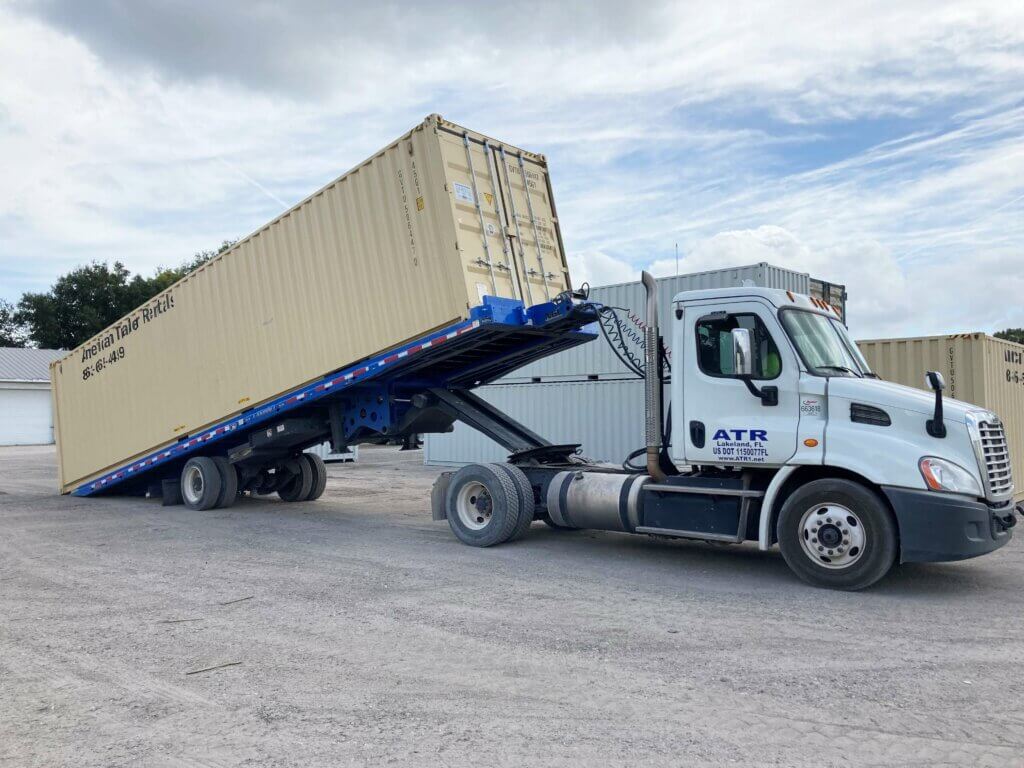 You may want all the storage that a 40' container provides, but does your site have the room for it?! It's not as easy as just having 40' of space. You need 40' of space PLUS another 60' of space to get the truck in and out. Not to mention these truck and trailer combos make real wide turns!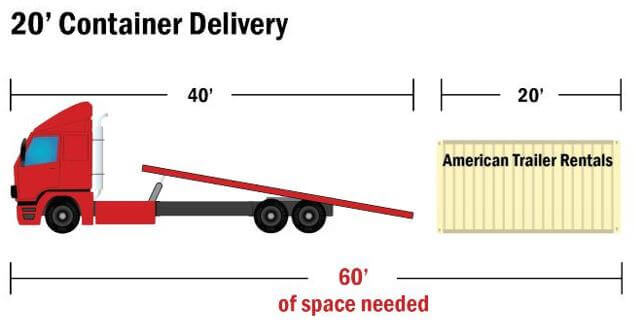 Get comfortable asking questions!
Any of our friendly staff is highly capable of answering any questions you may have about your storage container rental or purchase. Call us now and speak to a representative or request a quote today!