Building an inventory of tools (electrical or not) and gardening equipment (mowers, blowers & whackers) can cost a pretty penny. Some folks would be happy to store them in the average backyard storage shed. But wouldn't you rather protect your valuable assets in a multi-locking, steel box that can sustain winds of up to 130-150mph? Owning a Storage Container to store and protect your equipment will benefit you and your belongings GREATLY! Let's compare Storage Containers to Storage Sheds and hopefully we can shed some light on your backyard storage needs!
Storage Containers
A storage container, also called a shipping container or conex box, comes readymade – meaning no assembly or construction required! Its corrugated steel construction makes it tough, durable, and incredibly secure. The steel exterior also provides a strong weatherproof shell, keeping your tools safe and dry inside. Storage containers have been used for hurricane protection so you can almost guarantee it could keep your most expensive lawn equipment dry and safe during a big storm! Storage Containers can be locked multiple ways. Our steel lock boxes provide excellent security, safely preventing access from cutting a lock. Enforcer locks wrap around lock rods for maximum security, and hasps can be secured with a master lock. Check out our Container Accessories page for your container lock/accessory needs.
Sheds
A Shed is a simple, roofed structure. They can be made of wood (typically) or metal. Used as a storage space or a workshop, sheds are fine for basic protection for your average gardening tools. They usually have one handle/knob lock but can be padlocked for more security. They provide some shelter from the elements, but they aren't always water-tight and most are not wind resistant. So, if there is a large tropical storm or hurricane, you can say "bye-bye" to a beautiful shed that took 8-12 hours to build!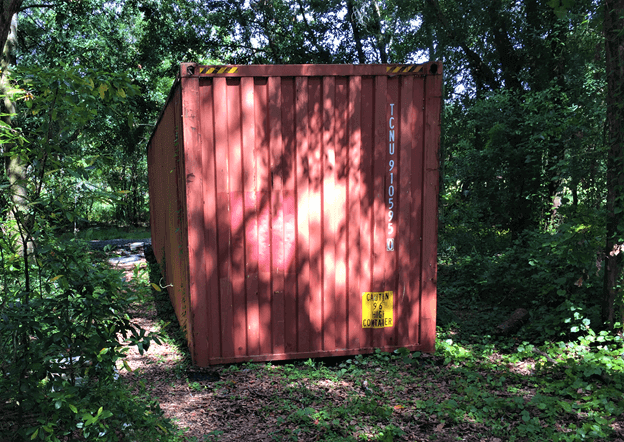 Protect your equipment with more than just 4 walls! American Trailer Rentals may be continuing storage container sales in 2022! Contact us for more info!