If you aren't familiar with shipping containers, and you hear the terms "standard" and "high cube", you may wonder what the difference is. The primary difference between the two is the height of the shipping containers. A 40-foot standard container is 8-feet 6-inches tall, whereas a 40-foot high cube container is going to be exactly one foot taller at 9-feet 6-inches.
High Cube Container Volume and Advantages
The space inside a container and how much can be stored is a huge factor when deciding which unit you should be using. A 40-foot standard container has 2,350 of cubic feet and the high cube container has 2,694 cubic feet of space. You will find that the doors on the units differ in height also with the 40ft high cube being a foot taller. All other dimensions like the width and the length of the units remain the same.
When choosing to purchase or rent a shipping container, you will have the option of either a standard or a high cube. When looking at the two units, they may appear to look the same, however, each one has its own benefits. A 40' standard container is the most commonly used and are readily available. You will also find that a standard container will be less expensive than a high cube container. However, the high cube container is used in almost every industry that transports and stores cargo, but more ideal for those that are transporting taller cargo or that may need to use a forklift due to the additional vertical space. Having an extra foot for a forklift to move goods around can be an advantage that saves a lot of time!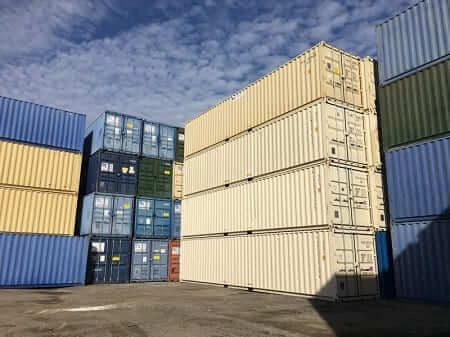 Ready to Choose
Here at American Trailer Rentals, we have both standard and high cube shipping containers for rent or purchase. We have various sizes, colors, and new or used condition.  Please give us a call if you're ready for your high cube shipping container!